Riparian Committee
Riparian Committee
The riparian project began in 2002 under the leadership of Frances Atwood. Atwood was alarmed by the erosion along Dixon Branch and its Deep Tributary which runs between Creekmere and Sinclair. The erosion was threatening our many mature trees, street paving and even underground utility lines. The goal of the project was to stop and repair erosion while protecting our greenbelt and preventing the installation of another concrete channel as was done along Vinemont and Sylvania. "Riparian" means "riverside", hence the name of the committee.
The Riparian Committee is one of the standing committees of ENA, and the chairperson of the committee also serves on the Board of Directors. The committee meets monthly or more often for a volunteer day in our park and greenbelt. On volunteer days, we work on our many projects depending on the season of the year. A major project each winter is the re-use of hundreds of discarded Christmas trees to control erosion on the creek banks in a technique called brush revetment. Other projects are tree planting, restoration of native vegetation, control of invasive species, and improvement of wildlife habitat. The annual spring and fall wildflower displays in our greenbelt are the work of committee volunteers.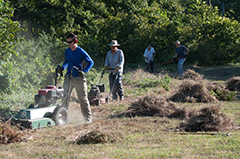 The largest part of our support comes from many hard-working volunteers and the contributions of ENA members. The committee has also been successful in obtaining training and financial support from many sources. To date, we have received about $40,000 in grants from various agencies. These grants have been used to complete projects that are beyond the abilities of volunteers.
Supporting agencies include:
North Central Texas Council of Governments, The Stream Team
National Fish and Wildlife Foundation, Five Star Grant Program
U.S. Fish and Wildlife Service, Partners for Fish and Wildlife Program
U.S. Environmental Protection Agency
City of Dallas, Park and Recreation Department
City of Dallas, MOWmentum Program
City of Dallas, Loving My Community Grant Program
City of Dallas, Reforestation Fund and Office of the City Forester
Thanks to all of these organizations, and to ENA volunteers for hundreds of hours of work. A special "thank you" goes to Ginger Travis who served as volunteer coordinator from 2002 until 2016 when she retired from that position. If you would like to volunteer, please contact the current chairman Michael Parkey, or look for announcements of our volunteer days on ENA Nextdoor.