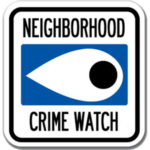 Crime Watch helps neighborhoods raise awareness about proven crime prevention technique any resident can implement. Volunteers promote Dallas Police classes and distribute crime statistics to neighborhoods. For the Dallas Crime Watch Resource Manual, click here.
As part of Crime Watch outreach, National Night Out (NNO) is an annual Crime Prevention Event held in August of each year. Due to heat, in the South events are held in October. Block parties are held with a focus on reducing crime by getting to know your neighbors.
For details on Eastwood Crime Watch, contact the current coordinator by visiting the Board of Directors page.
Dallas CrimeWatch 
DCW aids communities, crime watch leaders, politicians and law enforcement might in communicating and coordinating more effectively.
Crime Watch Executive Board (CWEB)
CWEB acts as a liaison between members of the community and the Dallas Police.