Eastwood's Superhero July 4th Parade!
Eastwood's Superhero July 4th Parade!
4th of July Parade and Picnic
Playground Park [Lippit/Sylvania at Sinclair]
July 4th – 9 to 11 am
Calling all Superheroes, young and old! Share your super presence at the 4th of July Parade and Picnic hosted by Eastwood Neighborhood Association.
Wear your most patriotic clothes. Dress up the kids and dogs. Deck out your bicycle, wagon, scooter, stroller, or and anything else that rolls — you can even make a float! Costume and decorations awards have returned!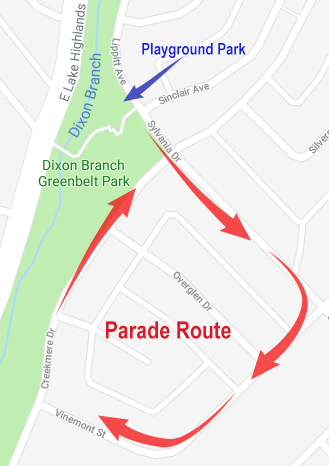 Meet up at Playground Park at 9 am. Or cheer us from the parade route. Things usually get rolling by 9:15 am — just as the cool front is predicted to arrive.
We'll follow vehicles from police and/or fire (if they're not fighting crime/fires then) and go up Sylvania. We take a right on Vinemont, follow it to Creekmere, turn right and return to the park. It takes about 20 minutes.
Back at Playground Park, we'll have a picnic party with a mega slip-and-slide for the kids!
Freshly grilled hot dogs    Corn chips and salsa from El Fenix
Chilled watermelon slices    Cold lemonade
Fruit waters from Sparkling Ice
Snow-cone machine
Drop by the Eastwood Neighborhood Association table and update your info for this fall's neighborhood directory. Renew your membership. Learn about our award-winning Volunteers in Patrol — apply by July 27. Sign up for a voter registration card — now that's patriotic!
Help Make the Memories Happen
Want to buy and pass out small flags to participants and watchers?
Can you come early from 8 to 8:30 am and help our wonderful volunteers set up food and activities?
Looking for someone to be the happiness dispenser at the snow-cone machine.
Can a parental type please keep at an eye on the slip-and-slide for us?
We sure need some folks to stay after and clean up.
Email Sara to join in. Or, call her at (972) 365-4370
MANY THANKS!
A special thanks to El Fenix and Sparkling Ice!